Back in February of 2019 I gamed on Gareth Lane's Chechen/Russian street landscape (see 'Away Game With Welsh Chechens) and besides having a great time I also much admired the buildings – hand built by a guy he knew. Not long after the event the gang did our cartel game at Hammerhead in March (see Sicario Part VI: The End!) – still the last show game so far, and chatting with Dave afterward we thought it would be good to do a similar game with our ever growing modern middle east collection, which was becoming more and more Syrian oriented, but for it to be realistic it would need to be far more 'distressed' than our pristine cartel set up, although we could still use the boards with the roads.
At first I looked around for mdf kits and yes there are a few individual buildings (good old TTC) but not what I was really looking for, we could use our existing middle east building but they are really for villages or the outskirts of towns, or maybe I or one of the group could scratch build? But then I asked myself, but what am I really looking for? Well it doesn't take much of a Google search to show what the streets of most Syrian cities look like and it's pretty desperate although oddly iconic and very reminiscent of images of Stalingrad – cue Gareth and his builder.
Contact with Gareth revealed the guy was Chris at Task Force Terrain and in April our journey began.
At first it was all about what I really wanted and what could reasonably fit on the existing street grid so a steady stream of e mails back and forth slowly inched us towards a mutual understanding of where we were going. As an ex automotive industry project manager I have to say this was the most constructive project experience I have ever had and I cannot praise Chris enough for his energy and enthusiasm for the project tempered by what was practical to build and be usable on the table top.
The months April and May were spent exchanging ideas on what buildings would be best for the different parts of the street grid; single ruins at the corners, less damaged apartment style buildings for the double spaces and what to put in the centre as a feature building. Also, mundane stuff like what kind of base to put the buildings on (3mm hardboard eventually), whether there should be pavements around the buildings and should they be damaged, how high could we go and how much access could players get to the buildings and what colour should the buildings be? Strangely this all became increasingly important as we went along; the feature building entailed a lot of back and forth e mails accompanied by real life images for consideration and it was Chris's idea to go for a hospital, very much a feature of news reports and a potential focal point for a game. The question of pavements was something I hadn't considered even though they are staring you in the face in every image from the cities but of course space for pavement means less space for building and what size pavement anyway? The height of the buildings became an issue of practicality from a gaming point of view and a construction point of view; too tall and gamers can't reach across the table and the more floors there are the more messing about taking floors off and on; in the end we opted for small apartment ruins at the corners only two stories high, then larger apartments/office blocks of three stories with removable roofs and top floor and then a straight drop to the ground floor and the centre piece hospital four stories in two halves with removable roof and floors.
The colour palette was decided by Chris doing swatches and sending me photos which worked surprisingly well as I think you'll agree.
It was during this development that Chris found a picture of a Syrian police station and that became the prototype for one of our double sized buildings.
Into June and the serious work started, well for Chris anyway, I was thinking "I wonder if we could get this ready for The Other Partizan" – oh how we laughed!
As he progressed Chris sent me images of what the raw buildings would look like and the option for limited changes but as we'd discussed the look at length this was essentially a rubber stamp exercise.
Come October and the photos of the finished articles started flowing in and I was completely blown away by the level of detail and had one of those rare moments of experiencing a vision actually realised. Truly stunning.
All that I needed to do now was motor down to Chris and pick them all up. Easy! Well yes if we weren't in tiers (I was in bloody tears!) and where I lived was different to where Chris lived and the rules kept changing and then no one could go anywhere! At first we just agreed Chris would hold onto the buildings for a while because we'd be able to travel soon……… Obviously it soon became apparent that no one was going anywhere and my project was cluttering up Chris's workshop so reluctantly I agreed he'd courier them up to me.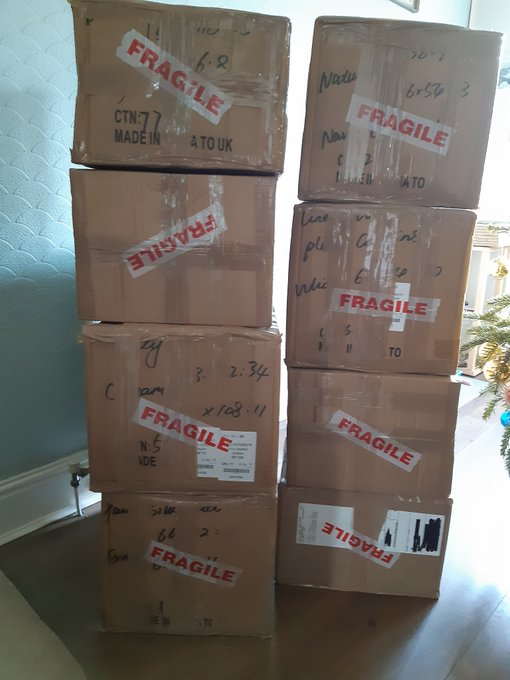 As you can see, 8 boxes arrived one day via DPD, who it must be said did a fine job of delivering in tact, ably assisted by Chris's magnificent packaging skills.
Having duly unpacked and set them up on the the streets boards on the gaming table they just sat there for several weeks and I dreamt of us gaming on them someday but as that day seemed forever far off I decided to solo game a Spectre game the other week over several nights just to get some use before storing them away for the great gaming return! Hopefully this game will appear with a narrative on LAF in due course but in the meantime here are some shots of the action.
That's all for this month next month we'll have a look at the joint project born out of the ashes of lockdown – Successors.